DVAG, the Deutsche Vermögensberatung AG, is one of germany's largest finance management firms. MESO won the bid to participate in the creation of the longterm exhibition "Erlebniswelt" in the DVAG Congress Centre in Marburg. Following an interior plan by Architects Harry Vetter Team and overarching concepts by scenographers Bogner.CC, we were responsible for the design and realisation of all the interactive exhibits and we had a lot of fun developing little games focusing on the utterly enthralling theme of asset and financial planning, the insurance market, and the corporate history of DVAG and its founder. Our trusty hardware partner in the realisation of the project was AV-Kommunikation, and as usual, all of the interactives are done in pure VVVV.
The MESO Team: Ingolf Heinsch, Jochen Leinberger, Alexander Graf, Nils Buhlert, Johannes Scherg, Markus Lorenz Schilling, Florian Egermann, Sebastian Huber, Sebastian Lübbert, Sebastian Oschatz, Max Wolf, Kathrin Schacke
Interactive ergometer game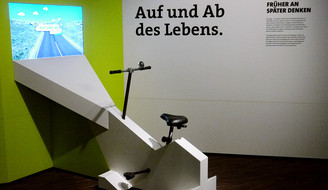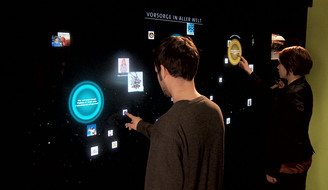 Interactive foot controlled Q & A game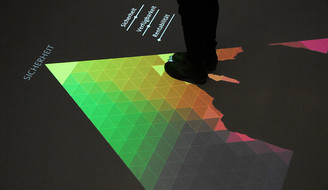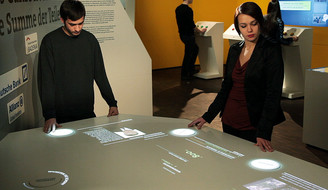 Room-integrated relief map light installation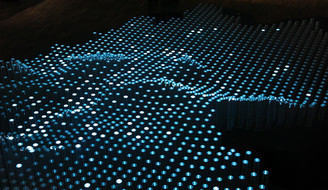 Integrated iPad ebooks in ball chairs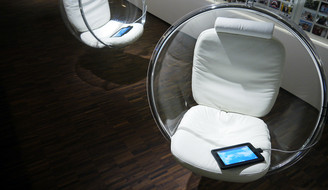 In addition to these exhibits MESO was also responsible for the technical planing, software programming and realisation of a number of smaller touchscreens welcoming the visitors in the entry hall of the Congress Center and introducing him to the world of DVAG.